Teaching your kids about nutritious eating is essential for their growth and development. But will your child always make the right food choices when you aren't around?
Even if you instill the value of eating well at home, nutrition may not be the first thing on your kids' minds while they're at school with their friends. Social pressures, colorful packaging and addictive ingredients of junk food can influence your little ones to pick it over the nutrition they need.
This is where the value of a well-planned and creatively constructed lunchbox comes in. Designing a fun and nourishing lunchbox can inspire your children to stick to a balanced diet, even when they're away from home. Combine your creativity with some suggestions from Puck, and you'll soon be packing up nutritious lunchbox hits that your little ones will love.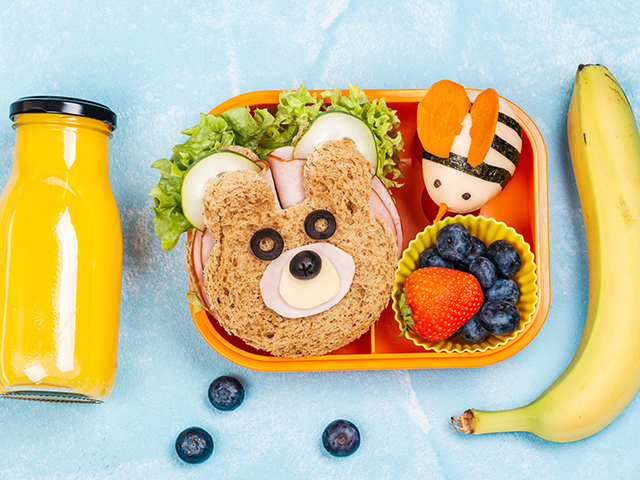 Lunchbox Inspiration for Busy Moms
As a mother, you have a vision for what foods your child should be eating. But let's face it, your daily schedule is demanding! Balancing all the logistics of the day and other tasks can be draining and sometimes, you may end up picking their favorite foods over more nutritious options.
Lunchtime nutrition is a key part of helping your kids get to the end of their school days with energetic, smiling faces and the best way to guarantee that energy for them is through a meal you prepare yourself.
Maybe you've finished doing all the tasks. You prepared a magnificent dinner for your family, but there is still laundry to do, the kids need help with their homework or you could spend some time unwinding as you get ready for work tomorrow. At this point, you're faced with yet another choice. Do you give your kids some lunch money for the next day, or do you summon the energy to pack a lunch that your kids will hopefully eat. After such a long day, this choice can feel overwhelming because you are aware of the subpar food options that your child might get at school.
Thankfully, you are not alone in your mission to help your children thrive. Puck has collected some lunchbox nutrition hacks that cover the basics of putting together a nourishing balance of foods into your child's midday meal.
Fun Foods for Thriving Kids
A second challenge is designing a lunchbox that is nutritionally balanced and fun to eat. Luckily, Puck's got you covered with some creative school lunch ideas. Below are a few recipes that can turn the troublesome task of lunchbox prep into one of the most enjoyable parts of your day.
Bonus tip: include your kids in the construction of their own lunchboxes. This not only gives them some ownership over their nutrition, but also transforms a tedious daily chore into a new opportunity for quality family time.
The following recipes are all so simple that your kids can easily join you in packing up their lunches!
This meal is full of garden-fresh fun! Team up with your kids to design a picture-perfect sunflower that's fun to look at and even more fun to eat. This lunch also has a well-rounded nutritional profile.
Invite your kids on an underwater adventure! Work together to construct this cute crab-shaped croissant sandwich, packed with the vitamins and minerals your little ones need to make it through a long day of school.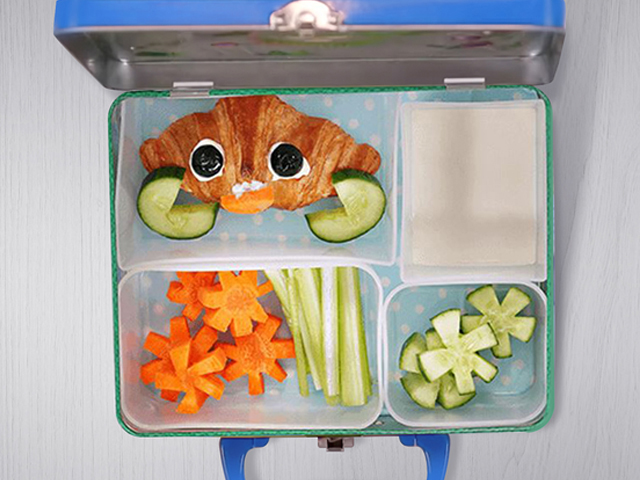 Here's a smart meal that incorporates the joy of literacy! Help your child spell out a word that they can gobble up at lunchtime. This will help them practice their letters while giving them energy for more learning and play.
This lively, green meal is packed with protein. The little finger sandwiches are just as fun to make as they are to eat. Eggs, turkey, and cheese add some hearty nutrition that will keep your child going strong all day.
With these recipes and more, you can transform challenging lunchbox prep into a daily delight for you and your children. Team up with your little ones to pack their lunchboxes full of nutrition and help them take a bit of mealtime joy with them wherever they go.
More Lunchbox Ideas
Trying to find the right lunchbox to fit your kid's lunchtime needs? Puck has advice on what to look for when shopping for a lunchbox.
Are you struggling to convince your kids to make better food choices? Check out Puck's tips on how to guide your children toward healthier foods.