Preparing your kid's lunchbox daily can be a challenging task since kids are usually fussy eaters. Yet, it can be very rewarding, especially on the days when they have fully consumed what was packed. As a mom, you always strive to provide a balanced meal while also ensuring that it is made from ingredients that your kids love. Here are some tips for preparing a nutritious and fulfilling lunch!
Going back to school is exciting for both you and your kid, but it requires a lot of planning and the entire process can get confusing!
The confusion starts with the endless shopping trips, starting with getting the school supplies including the clothes, bags, etc., to getting your kid back on track with their sleep routine and returning to early bedtimes. Also, the stress of dinner and breakfast time, as well as getting ready for homework can all be quite overwhelming.
Knowing that your kids will no longer have a supervised lunch at home also adds to the stress, as you worry about the quality of food they will receive at school in your absence. This is in addition to the extra effort you put in the morning, as you prepare for both breakfast and lunch.
When you begin preparing the lunchbox, you always consider the right ingredients for your children to enjoy and savor their lunch. You want to incorporate everything that is both healthy and appetizing. Variety is also essential to keep your kids excited. Naturally, the question arises on what should be included vs excluded in their lunchbox…
To answer this question, you must first understand your kid's needs in order for you to provide them with this to ensure their healthy development and that they receive the energy needed to practice school activities.
What are the main ingredients of the lunchbox

?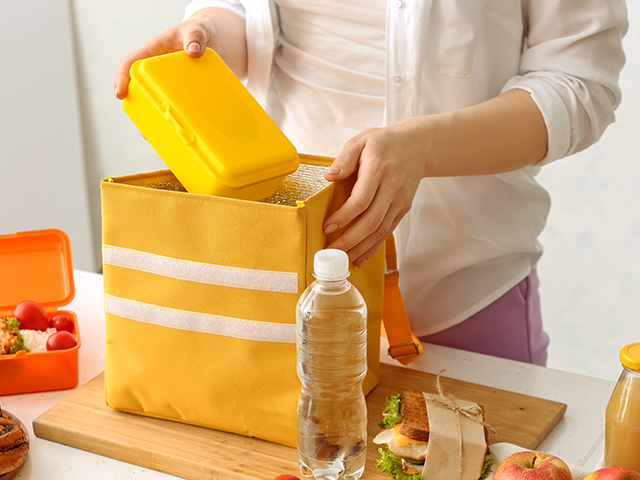 The lunchbox is an important source of key nutrients for your kid for their development. In addition, it also acts as fuel to energize them during the school days to be able to perform in activities as well as focus and grasp concepts during their classes.
For this reason, the lunchbox must contain specific types of foods that meet their energy and physical and mental developmental needs.
International nutritional guidelines state that every lunchbox must include the following nutrients: carbohydrates, protein, vegetables, fruits and healthy fats in addition to water and fluids.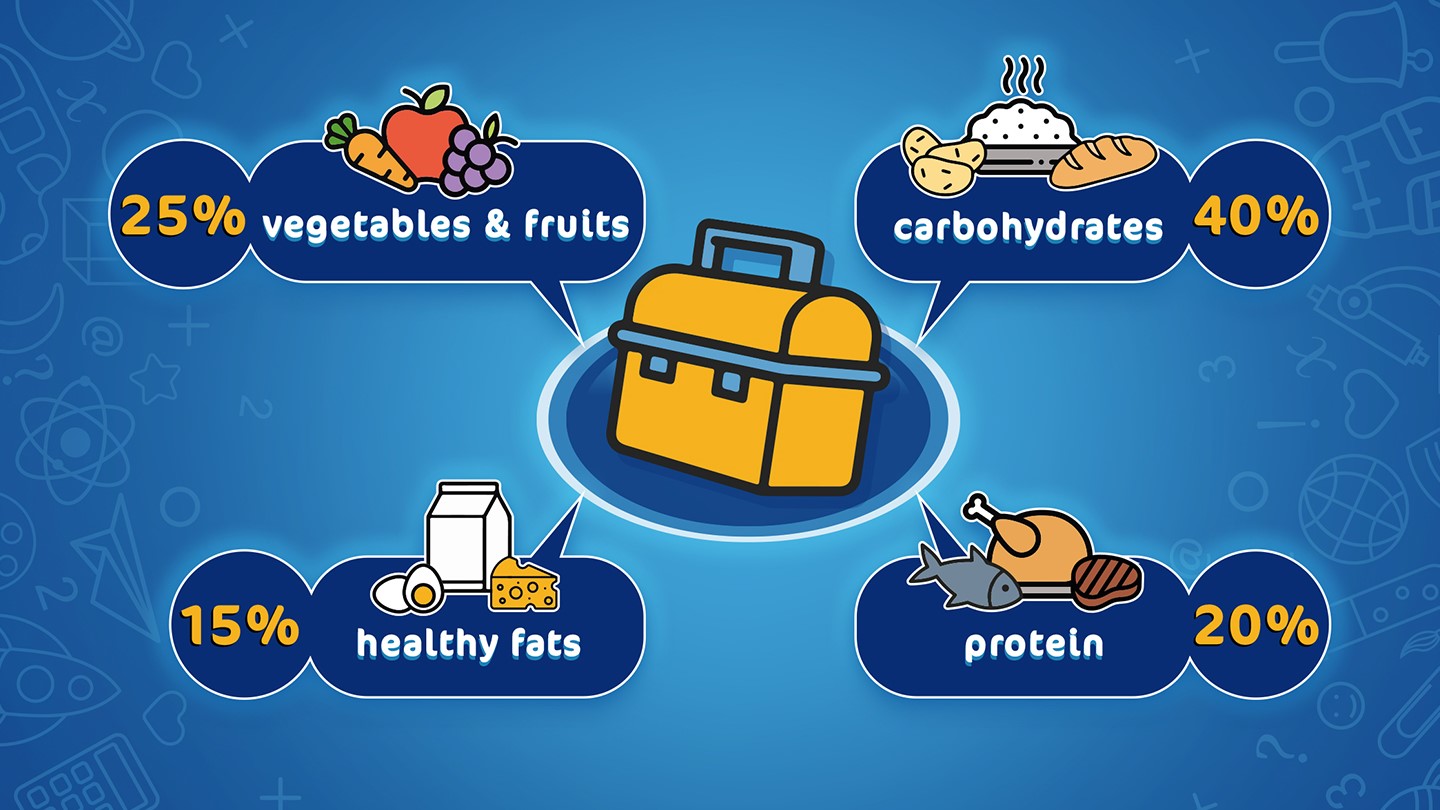 Carbohydrates (40%), protein (20%), vegetables and fruits (25%), healthy fats (15%)
Recommended by the UAE dietary guidelines.
These daily nutritional requirements can be obtained from many sources:
Carbohydrates: such as whole-grain bread, rice, potatoes, and others. It is a major source of energy and fibers and contains several beneficial nutrients.
Dairy products: cheese, yogurt, milk and others. It is an indispensable source of calcium, which is necessary for the formation of bones and teeth. It also contains several vitamins such as B12 and B6, and nutrients including protein, iodine and zinc.
Fruits and vegetables: apples, grapes, carrots, tomatoes and many more. Fruits and vegetables contain important minerals and vitamins that the body requires for growth.
Proteins: eggs, meat, chicken, fish and others. These foods are high in protein and nutrients that your kid requires.
Fluids: milk, water, fresh unsweetened juices. Juices and drinks can help your child to keep hydrated and drinks like milk are also rich in nutritional value.
The above diverse food-groups can support you in the prepapration of a fulfilling lunchbox with innovative recipes and twists.
What types of food should be excluded from the lunchbox

?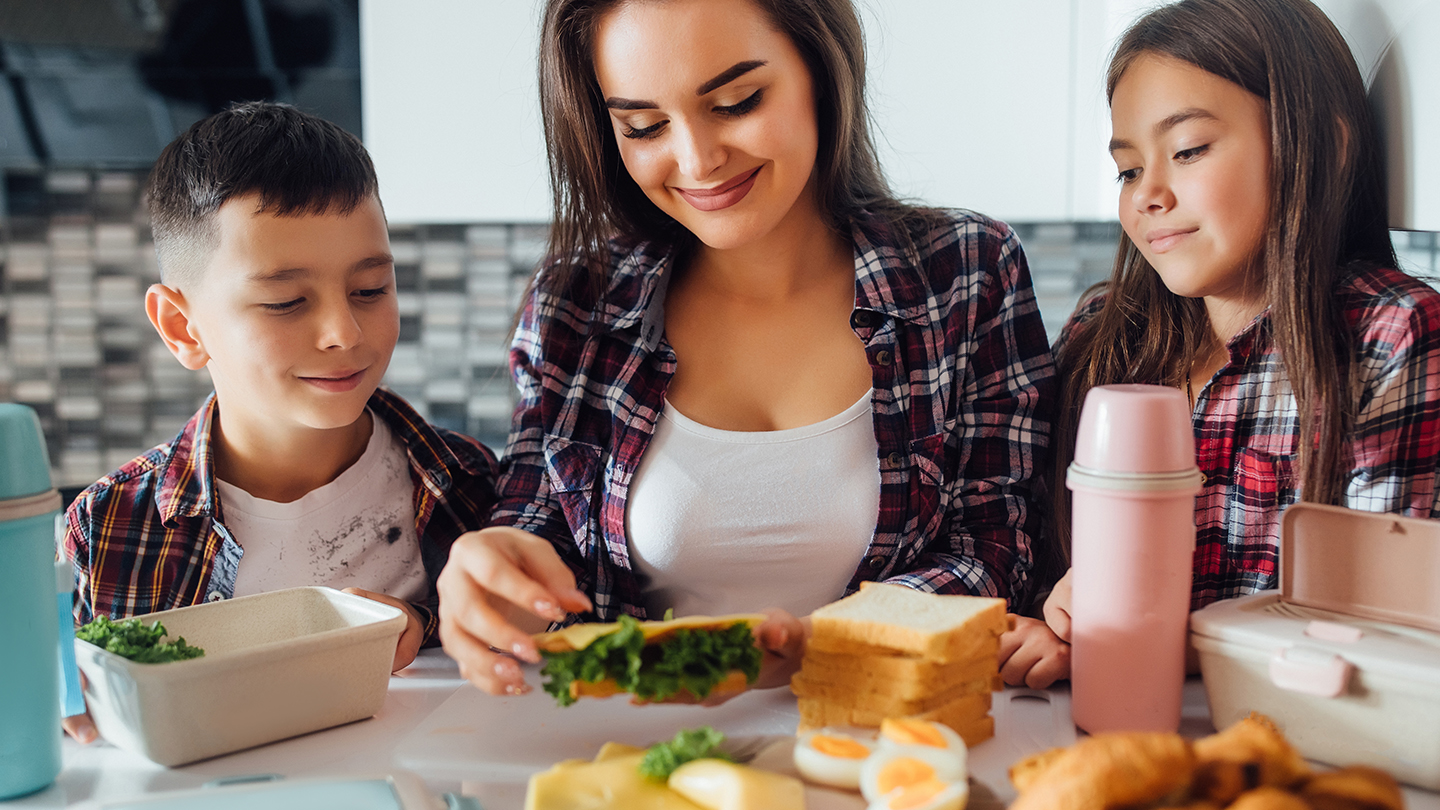 Kids tend to enjoy a many foods and sweets that contain high levels of sugar, artificial ingredients and preservatives or have low nutritional value. However, consumption of such foods should be closely monitored, even though it may sometimes seem like the easier choice.
The following foods should be avoided in the lunchbox:
1- French fries
It contains many synthetic chemicals and preservatives and are often prepared with low-quality oils and large amounts of salt.
2- Artificially sweetened juices and soft drinks
It contains many preservatives and large amounts of sugar and generally, doesn't have any useful nutritional value for kids.
3- Cake and Donuts
They contain high amounts of sugar, in addition to artificial colors.
4- Chocolate and candy
Candy and chocolate do not give nutritional value to your kids because they contain excessive levels of sugar, which in turn can affect their dental health.
5- Peanut Butter
Although kids tend to enjoy it, it usually includes a lot of sugar. It also is an ingredient which some kids might be allergic to.
In addition to the above, school guidelines globally and regionally prohibit including any type of nuts in the food served inside schools or that kids are permitted to take with them because they can cause an allergies to some people.
This is a generic guide of foods and meals that should be avoided in your kid's lunchbox. There might be more foods to avoid if your kid is allergic to specific substances, so you need to pay great attention to what they eat and visit a doctor if any adverse symptoms appear upon consuming certain food types. You can also benefit from paying closer attention to the nutritional information and labels of food before serving it in the lunchbox.
Education begins at home so whenever possible, do try to teach your children about the harmful impact of unhealthy foods on their growth and health and encourage them to adopt good eating habits in order to lead a healthy lifestyle.
If you find it difficult to keep your kid from eating foods such as chocolate and candy, you can give it to them in limited quantities over several days. Dark chocolate is a good alternative, because it contains a small percentage of sugar.
Now that you know more about healthy lunchbox components, you can use this to create a personalised weekly schedule of recipes to make meal preparation easier and faster for you. Also, choosing a good quality lunchbox will helps preserve food and keep it fresh for longer ensuring that your kids receive only the best. Good luck, moms!