Ramadan is a time when we can focus on our own spiritual growth, spend time with our family, and nurture our loved ones with heartfelt kindness and delicious food. But let's be honest, cooking all that festive food for an entire month is a lot! Let us share some of our go-to strategies for making Ramadan kitchen responsibilities a little less overwhelming, so you can cherish even more precious time with the people you love. (And maybe even get a moment to yourself!)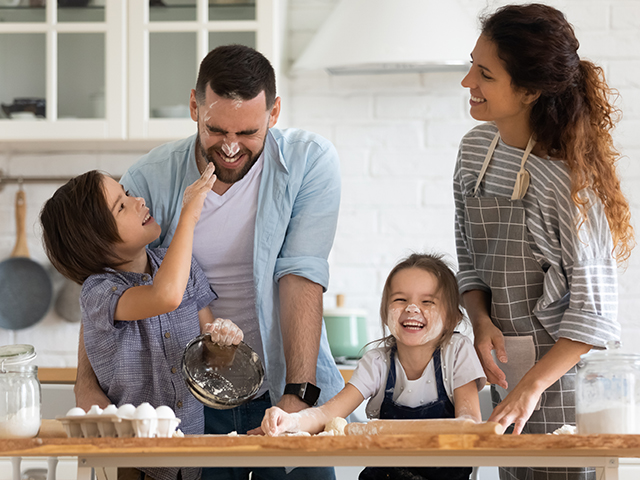 Imagine: You're a week into Ramadan, and your family has been fasting all day, signaling that it's time to gather around the dinner table and dig into tonight's Iftar.
As such, you start making extra calculations and backup plans. What if the rice sticks in the pot? Did you buy the fresh mint for garnish? Can that tomato sauce simmer while you help the kids finish their homework? Is someone extra joining for Iftar tonight, and will there be enough food to go around?
Don't worry! That nutritious meal you're cooking is going to be delicious because you're going to be eating it around a joyous table with the people you love and care for.
But in case you're still feeling a little stressed, here's a note from Puck to all the moms out there:
Ramadan is about being present, not about being in the kitchen.
Not every Iftar dish needs to be the most elaborate thing you've ever cooked. And if you're trying something new and it goes wrong (let's face it, kitchen fails happen), there are lots of ways to recover, so you can still sit down and enjoy that valuable Ramadan family time.
Here are a few tips you can add to the rotation if you aren't already doing them:
Stock the freezer:

To save time—and give yourself peace of mind—be proactive, make, and freeze a few Iftar dishes ahead of time. Fatayer or other kinds of savory pastries are great for stock up because they freeze well and cook fast. Try making these Cheese Borek or Cheese Sambousek for a tasty side dish enriched with vitamin D. Then you can serve something that's homemade, and also take a breath and spend some extra time with your family.

Get key ingredients with long shelf life:

Make sure you have a stash of pantry items and ingredients that keep a while in the fridge. Tomato sauce, pickled vegetables, canned beans, canned or long-life boxed creams, dried pasta, various cheeses, and frozen chicken can all be turned into meals in a flash. Many of these versatile foods will last well beyond the month of Ramadan too.

Have quick recipes on hand:

Print out five or ten reliable quick recipes, so if (or dare we say when) something goes wrong, you don't have to waste time searching the whole internet for ideas. To be extra-efficient, pick recipes that use the key ingredients suggested above, and put it all on your shopping list. Then if that pot of rice does burn, or an unexpected guest turns up, you can combine your recipe cheat sheet and your pantry inventory to whip up a quick, delectable meal.
These 8 quick recipes are some of our favorites. None of them should take more than 35 minutes and many will turn out great even if you don't have every single vegetable or garnish.
Everyone has different ways of balancing their schedules, getting everything done, and finding time to be present with their families. But no matter how you foster precious moments with your family this year, remember that, above all else, Ramadan is about being present. So don't overwork yourself. You're doing great. And there are #NoSuperMomsHere.
Want more Ramadan tips, cooking stories, and recipes? Check out our articles section on our Puck Ramadan landing page.